In the enchanting world of perfumes , winter is an ideal time to enjoy warm and surprising fragrance tones . In the heart of this cold season, perfume tones explode with their enchanting colors and scents, adding an enchanting atmosphere to our days.
Among the leading companies in the world of perfume manufacturing in the Kingdom of Saudi Arabia and the Arab Gulf countries , we find Sidr Al Khaleej , which carries long experience and a good reputation in the production and sale of perfumes.
Sidr Al Khaleej , with its unique vision and passion for uniqueness, was able to make its name resonate strongly in the world of perfumes in Riyadh and the Kingdom of Saudi Arabia in general, in addition to expanding the scope of its presence to include the countries of the Arabian Gulf . Our company is distinguished by its dedication to selecting the best ingredients and aromatic notes to produce perfumes that meet the expectations of our valued customers, and summarize in their bottles a unique experience.
In this article, we will discover together the best aromatic notes that reflect the magic of winter and harmonize with the atmosphere of this cold season. We will learn how to choose the appropriate winter perfumes that will add a charming touch to your look at this time of year. Our company supports this experience with its distinguished collection of perfumes that are among the most beautiful and best winter perfume innovations.
Aromatic notes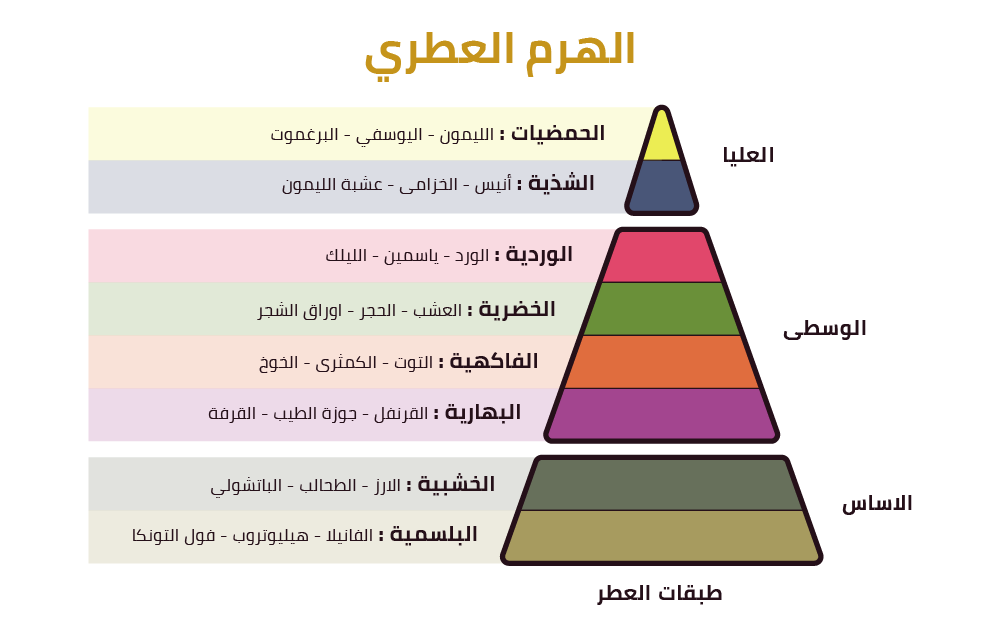 Definition of aromatic notes
Before we get into the importance of choosing the right fragrance for the winter , let's get to know the concept of aromatic notes . Fragrance notes represent the notes that make up a particular perfume , and can be divided into three main categories: top note, middle note, and base note.

Top Notes: This is the first note you smell when spraying the perfume on the skin. It is fresh and light, and gives you a first impression of the fragrance. This top note includes citrus notes such as lemon and bergamot, and sometimes mint and almond.

Heart Notes: After the top note fades away, the middle note comes into play. This note is more complex and expressive, adding dimension and depth to the fragrance. Examples include flowers such as roses, jasmine, and lavender.

Base Notes: This note stands out noticeably after a period of wearing the perfume. It gives the fragrance stability and depth, and carries mostly warmer notes such as amber, sandalwood, and vanilla.
The importance of choosing the right perfume for the winter
Winter is the time of year characterized by cold and dry weather, and this means that we must be careful when choosing our perfumes. Here are some reasons why choosing the right fragrance for winter is important:
Persistence of the fragrance : On cold days, the base notes of the fragrance continue to transform and develop slowly, making the fragrance last longer on the skin. This makes warm and complex perfumes an excellent choice for winter.
Warm Notes : Warm notes such as amber, vanilla, and cinnamon are ideal for enhancing the feeling of warmth during cold winter days.
Harmony with the season : Perfumes that carry scents of winter flowers, such as jasmine and Bulgarian rose, give you a feeling of harmony with the season and add a special touch to your look.
Elegance and attractiveness : Perfumes play an important role in highlighting your attractiveness and elegance, and choosing a suitable fragrance for winter can have a positive impact on others' impression of you.
Types of perfumes suitable for winter
In winter , you can enjoy the diversity of perfume scents that reflect the beauty of this cold season. Warm and refreshing aromatic notes are especially suitable for winter . Let's review some notes appropriate for this time:
Warm notes for winter
vanilla
Vanilla is one of the most prominent warm notes that blends perfectly with winter. It adds a sweet and creamy touch to the fragrance, creating a feeling of warmth and comfort.
Oud
Oud : Oud is considered one of the most complex ingredients in perfumery, and it gives the fragrance a woody and smoky touch. This note gives the fragrance depth and strength, making it ideal for use on winter nights.
Amber
Amber : Amber is considered one of the warm base notes that give the fragrance attractiveness and high stability. It adds a mysterious and beautiful touch to the perfume that makes it stand out in winter.
Refreshing notes for winter
Bergamot
Bergamot : Although bergamot is often part of the top note in perfumes, it can be used subtly to add fresh, citrusy notes to a fragrance. This refreshing touch enhances your feeling of freshness on cold days.
Lemon
Lemon : Lemon represents a top note that adds a touch of freshness and vitality to perfumes. If you're looking for a fragrance to add fresh breath to your winter day, lemon is a great choice.
Jasmine
Jasmine : Jasmine is a beautiful flower that gives perfumes a delicate floral note. Adding a touch of jasmine to a fragrance can be very feminine and attractive.
How to choose fragrance notes for winter
Here are some useful tips for choosing the right fragrance notes for the winter :
Factors to consider when choosing perfumes
When you decide to choose a suitable winter fragrance , you should consider several factors that will help you make the right decision:
Stability length
The longevity of the fragrance is important. In winter, perfumes with warm base notes can stay on the skin longer. Therefore, it is preferable to choose a perfume that has good stability and will last with you throughout the day.


Personal odor
Everyone has their own fragrance preferences. You should choose perfumes that reflect your personality and suit your own taste. You may find that warm notes like vanilla pair well with your personality in winter.
Occasion
You should consider context and occasion when choosing perfumes. For example, there may be perfumes that are suitable for daily use at work and others that are suitable for special occasions. Make sure that the fragrance you choose fits the context in which you will use it.
Perfume care in winter
"In winter , it is preferable to store perfumes in a cool, dark place away from direct sunlight and temperature fluctuations. This helps maintain the quality and stability of the perfumes.
To learn more about the secrets of storing perfumes, you can read the following article: ' Secrets of storing perfumes correctly '.
How to make your perfume last long in winter
Tips to increase the stability of perfume
Moisturizing the skin : Before spraying perfume, moisturize your skin with a light moisturizer. Moisturized skin retains fragrance better and longer.
Spray on pulse points : Spray perfume on pulse points such as the wrist, neck, and ears. These places emit heat and help the fragrance interact with your skin.
Use matching products : Use body and hair products with the same scent to increase the stability of the fragrance.
Coordinating perfumes with clothes and makeup
Choose harmonious perfumes : Try to coordinate your perfumes with your clothes and makeup. Floral perfumes go with light colors and soft clothes, while warm perfumes go with rich colors and winter clothes.
Beware of excess: Do not overuse perfumes. Winter may be the right season for strong perfumes, but you should avoid excessive use, which can be annoying.
Renew perfume with caution : If you need to reapply perfume during the day, do so carefully to avoid aggravation.
Winter perfumes for men
Winter perfumes for women
Winter perfumes for the office
Winter fragrances for the holidays
Differences between perfumes suitable for winter and summer
"In conclusion, we must realize that there is a clear difference between perfumes suitable for winter and summer . In winter , we tend towards perfumes with warm and heavy notes that are suitable for cold climates and warm clothes.
While in summer , we look for light and refreshing fragrances that reflect those hot weather and light clothes.
Therefore, do not hesitate to update your collection of perfumes to suit the winter season and enjoy different aromatic experiences that suit different seasons."
common questions
What are the best fragrance notes for winter?

The best fragrance notes for winter include vanilla, agarwood, and amber.
Should you always use warm perfumes in winter?

not always. Different perfumes can be used in winter depending on personal preferences, but warm perfumes are popular and suitable for this season.
How can I make my perfume last longer in cold weather?

To increase the stability of the perfume in cold weather, it is preferable to moisturize the skin before applying the perfume and spray the perfume on pulse points such as the wrist and neck.
Are there any seasonal fragrances for winter?

Yes, there are seasonal winter fragrances that are characterized by warm and heavy notes that suit cold climates.