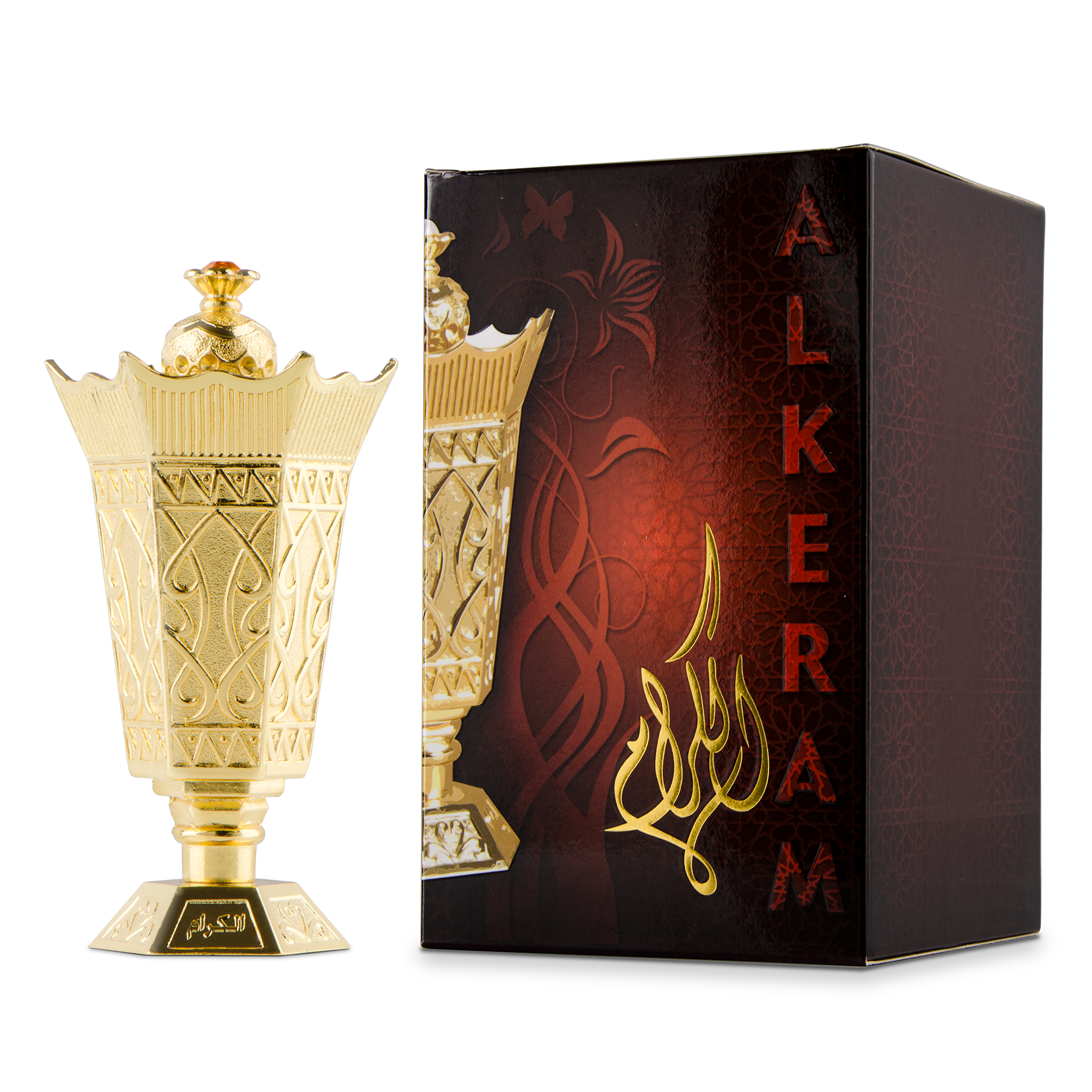 Mukhallat Al Karam - 12 ml
Mukhallat Al Karam is a 100% concentrated oil perfume that reflects the luxury of Eastern identity and the spirit of Arab generosity. This fragrance features a harmonious blend of flowers and musk, with a layer of wood and sandalwood, to lift you into an atmosphere of confidence and authenticity.
The fragrance opens with notes of saffron, which gives the fragrance irresistible heat and strength. Followed by middle notes of sandalwood and flowers, which give the scent a touch of softness and attractiveness. These scents are integrated with the base notes of musk and amber to provide a persistent and intense scent that lasts for long hours.

The packaging reflects the beauty and elegance of Mukhallat Al Karam. It features a luxurious and elegant design , with golden details that add a touch of sophistication and luxury. The shiny gold cap complements the packaging, giving it a premium and attractive look. The packaging is carefully designed to be practical and elegant, making it the perfect addition to your personal perfume collection or the perfect gift for your loved ones.
Mukhallat Al Karam is not only a perfume, it is an embodiment of luxury and distinction . It is the perfect choice for men and women who want to enhance their presence and shine their personality. It gives you a feeling of comfort and confidence every time you use it. With its compact size of 12 ml, it becomes the perfect companion for special occasions and important events, and is the wonderful gift for people who care about quality, uniqueness and luxury.
Order now Mukhallat Al Karam in Saudi Arabia and the Gulf

Through the fast shipping feature, you can receive your valued mukhalat in all regions of the Kingdom of Saudi Arabia and the Gulf Cooperation Council countries within a period of only 2 to 7 working days, and benefit from multiple and secure payment options.

| | |
| --- | --- |
| Product Type: | Oil perfume |
| Gender: | Women/Men |
| Concentration ratio: | 100% concentrated perfume oil |
| the size: | 12 ml |


Aromatic notes
| | |
| --- | --- |
| Perfume opening: | saffron |
| Middle fragrance: | Sandalwood, pink |
| Base perfume: | Musk, amber |
This product has no reviews yet.