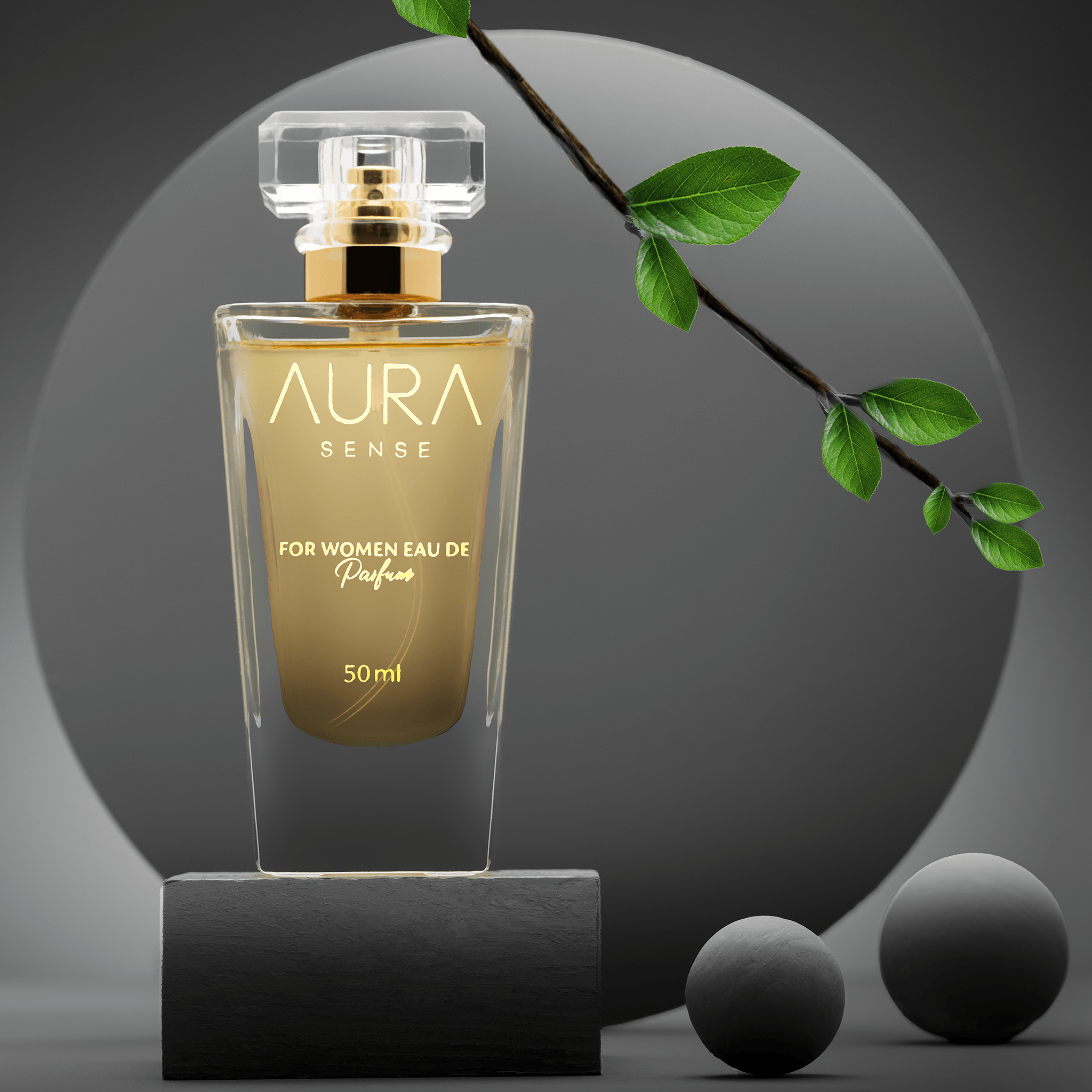 Aura Sense Perfume - 50 ml
AURA SENSE women's perfume
With Aura Sense perfume, you will live a unique and enchanting experience in which femininity and beauty shine. It is a wonderful and incomparable fragrance in the spring and summer seasons.

Aura Sense perfume combines the magic of nature with eye-catching femininity. It is characterized by a charming fruity scent that takes you on an amazing journey to the world of flowers and fresh fruits. The experience of this wonderful fragrance begins with an enchanting introduction that combines soft fruity tones and pink pepper, which adds a lively touch and immediate freshness.
The heart of the fragrance comes alive with supreme elegance with a stunning blend of orange blossom, soft jasmine and feminine violet blossom. These ingredients combine delicacy and elegance, making this fragrance suitable for a radiant woman who has an attractive and sexy personality.
At the base of this charming fragrance, we find musky notes that add warmth and allure, in addition to a touch of oak moss that adds depth and unique character to this wonderful fragrance. To complete the wonderful experience, AuraSense features a subtle touch of powder that creates a soft, glamorous, long-lasting finish.

Aura Sense, with its high concentration as eau de perfume, gives you an exceptional, long-lasting aromatic experience on your skin, making it an ideal companion on all special and important occasions. This fragrance was designed for a woman who loves elegance and loves to leave her distinctive mark wherever she goes.

The distinctive bottle design of Aura Sense perfume adds a touch of luxury and beauty, making it a wonderful gift for your loved ones and friends on any occasion.

Discover the magic of femininity with Aura Sense perfume - 50 ml, and let its pleasant scents captivate you and take you on an enchanting journey to a world of beautiful sensations and feelings.
Order now the women's perfume Aura Sense in Saudi Arabia and the Gulf
Enjoy free shipping for orders over 200 riyals within the Kingdom of Saudi Arabia and benefit from multiple and secure payment options.

Through the fast shipping feature, you can receive the AURA SENSE women's perfume in all regions of the Kingdom of Saudi Arabia and the Gulf Cooperation Council countries within a period of only 2 to 7 working days.
| | |
| --- | --- |
| Product Type: | Perfume |
| Gender: | female |
| Personality of your perfume: | brilliant |
| Fragrance family: | Fruity |
| Concentration ratio: | Eau de perfume |
| the size: | 50 ml |
| Release Date: | 2021 |
Aromatic notes
| | |
| --- | --- |
| Perfume opening: | Fruits, pink pepper, red fruits |
| Middle fragrance: | Jasmine, orange blossom, violet |
| Base perfume: | Musky, powdery, oak moss |
This product has no reviews yet.